Meet Dr. Harjyot Bhullar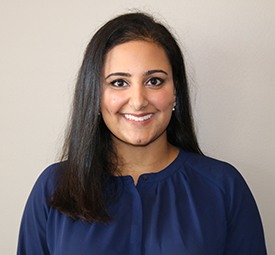 Dr. Harjyot Bhullar grew up in Wheeling, WV. She earned a Bachelor of Science degree in Biology from Ohio State University in 2012. She spent the next 4 years in the mountains of Morgantown, WV and completed her Doctor of Dental Surgery at West Virginia University School of Dentistry. Upon graduation in 2016, Dr. Bhullar went on to Virginia Commonweath University School of Dentistry to complete her Advanced Education in General Dentistry residency. She received additional training in advanced dental procedures with an emphasis on cosmetic and implant dentistry.
Dr. Bhullar is very excited to be joining the wonderful team at Watermark Dental and is fully invested to provide the highest dental care possible. Dr. Bhullar is a member of the American Dental Association, Ohio Dental Association and the American Academy of Cosmetic Dentistry. Outside the office, Dr. Bhullar enjoys spending her time with her family, traveling and is a self-proclaimed "foodie".