Powell Dental Implant Supported Tooth Replacement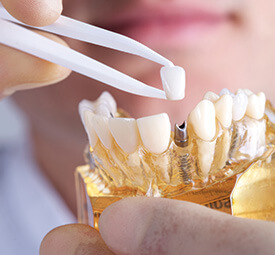 Dental implants have truly transformed the tooth replacement process. Traditionally, tooth replacement solutions only replaced those parts of teeth visible above the gum line. Dental implants replace the underlying root structure giving patients increased stability and natural feeling results. If you're missing one or more teeth and would like to find out more about your tooth replacement options at Watermark Dental, contact our team to schedule a consultation. We welcome patients from Powell, Grandview, Dublin, and all surrounding communities.
Restoration of Implants
Dr. Jason T. Culley and Dr. Tyler Overmyer partner with local oral surgeons or periodontists to complete the surgical placement procedure. This first phase of dental implant supported tooth replacement is not as painful as many patients assume it will be. The doctor places a small incision in the gums. Then, the implant post is inserted into the jawbone. Finally, a protective cap is placed over the implant site. For three to six months, patients undergo a process known as osseointegration. During this time, the dental implant post fuses with the gum and jawbone tissue to mimic the natural root system.
Once the implant has fused with the jawbone, patients return to our office where we'll attach the dental restoration. Patients missing a single tooth will typically need one dental implant to support a crown, and most people missing two consecutive teeth can also attach connected crowns to one implant post. To replace three or four consecutive teeth, patients will need two implant posts, one at either end, to support a series of connected dental crowns.
Implant Retained Dentures
For more extensive tooth loss, we may recommend dental implant supported partial and full dentures. Partial dentures are used to replace a number of consecutive and nonconsecutive missing teeth. A gum colored base is crafted to fit between healthy dental structures supporting replacement teeth. A full denture is an entire row of replacement teeth set into a gum colored base. In most cases, four to six strategically positioned dental implant posts can support an entire denture.