Sleep Apnea Therapy in Grandview, OH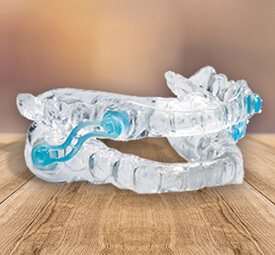 Getting a full night's sleep shouldn't be a struggle. If you wake still feeling tired, wake up out of breath or gasping, and snore loudly, you may be suffering from sleep apnea. This common sleep disorder effects millions of US adults. Most patients don't immediately consider visiting the dentist, when they've been diagnosed with sleep apnea. However, we're able to offer a unique treatment option for patients – oral appliance therapy. Contact Watermark Dental in Powell or Grandview to schedule a sleep apnea consultation.
What is Sleep Apnea?
Sleep apnea is the cessation of breathing for ten or more seconds at a time throughout the night. Patients who suffer from sleep apnea can experience 100s of these apnea events during sleep. Without proper treatment, patients who suffer from sleep apnea may experience a variety of adverse health effects including:
Severe daytime exhaustion
Memory loss
Inability to concentrate
Chronic, loud snoring
Elevated blood pressure
How Does Oral Appliance Therapy Work?
Typically, patients diagnosed with sleep apnea are treated by a sleep physician who traditionally recommend the use of continuous positive airway pressure (CPAP) systems to treat the sleep disorder. Unfortunately, many patients find themselves CPAP intolerant, unable to adjust to the sensations of the CPAP system. Our team offers oral appliance therapy as an alternative for many patients who suffer from mild to moderate sleep apnea. Oral appliances are custom crafted to shift the jaw forward, placing pressure on the throat muscles, and keeping the airway clear.
When Should I Consider Oral Appliance Therapy?
It's recommended that patients suffering from sleep apnea should visit a dental practitioner for oral appliance therapy in the following situations:
If the patient is CPAP intolerant
If the patient travels frequently by plane making transporting the CPAP system inconvenient
If the patient experiences inadequate relief with CPAP alone, combining CPAP with an oral appliance may be beneficial