Powell Smile Repair to Renew Oral Health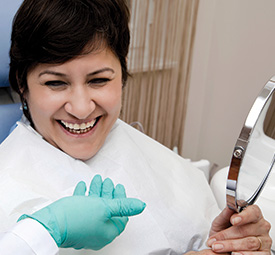 If you experience tooth decay, facial trauma, or other oral health concerns, the Watermark Dental team is here to help. We encourage our Powell, Grandview, and Dublin, OH area patients to contact us right away, if they experience dental discomfort or damage. The sooner we're able to repair patients' smiles, the more likely it is we'll be able to provide conservative treatment options. Whether you need to fill a tooth following decay or relieve painful toothaches with root canal therapy, our skilled dentists, Dr. Jason T. Culley and Dr. Tyler Overmyer offer skilled, effective care.
Traditional Crown & Bridge
Traditional dental crowns are used to repair smiles in a variety of situations. They restore form and function to damaged teeth by recreating the lost or damaged structure using a variety of materials including gold, porcelain bonded to metal, and ceramic. The dental crown itself is shaped to fit completely over the top of the damaged tooth protecting and repairing it. We use dental crowns in a number of restorations including:
The repair of decayed, broken, or otherwise damaged teeth
To conceal cosmetic irregularities, if a more conservative option is not possible
To protect and strengthen root canal treated teeth
A series of dental crowns can be connected to form a fixed bridge that is anchored to healthy surrounding teeth in order to replace one to three consecutive teeth
Dental crowns can also be used as part of dental implant supported crown and bridge tooth replacement solutions
If we determine patients are in need of a dental crown or fixed bridge restoration, the first step is to choose the appropriate material. Gold restorations are beneficial for back teeth as they are the most durable restoration material, but their noticeable appearance deters some patients from choosing this material. The porcelain bonded to metal material offers the strength of gold with an improved appearance. However, the porcelain wears away over time revealing the darkly colored metal below and necessitating replacement. All-ceramic crowns are the most cosmetic solution, and the high quality ceramic makes them almost as long lasting as the metal options. Regardless of material, the placement process is the same. Patients will need to visit our practice two times. During the initial appointment, we will prepare the tooth as necessary, capture bite impressions, and place a temporary crown. Our dental lab uses the impressions to craft a custom restoration. Once we receive the final crown or bridge, patients return to exchange their temporary for the custom restoration.
E4D Same-Day Crowns
If you're interested in repairing a damaged tooth in just one appointment, the Watermark Dental team is proud to offer same day dental restorations with the E4D computer assisted design and manufacture system. These one visit restoration solutions offer patients the same durable and long lasting results possible with traditional dental crows, using the highest quality ceramic material. Don't hesitate to ask about E4D, if you're in need of dental repair. We'll be happy to walk you through the process.
Tooth-Colored Fillings
Amalgam fillings were relied upon for years to repair mild dental damage, but they had an unfortunate impact on patients' smiles. The noticeable appearance of amalgam fillings in patients' smiles made them a less than ideal option. We typically use tooth-colored, composite resin fillings to restore teeth following cavities or dental damage. The putty-like resin is applied directly to the damaged tooth where it seeps into the crevices of teeth creating a solid bond between the tooth and restoration.
Root Canals
Root canals are necessary when the innermost layers of patients' teeth are damaged or decayed. Patients in need of root canal therapy often experience a severe toothache and sensitivity to changes in temperature because the nerve system of the tooth is housed within the pulp. Root canals remove the infected pulp and nerve tissue and replace them with a biocompatible substance. Following root canal therapy, we may recommend the placement of a dental crown to strengthen and protect the treated tooth.
Tooth Extractions
Tooth extraction is a procedure that we do not recommend frequently. We want to do our utmost to help patients keep their natural smiles for life. However, in some cases, removal is the best way to preserve patients' overall oral health. We may recommend extraction for teeth with severe decay that makes the tooth incapable of supporting a restoration, in preparation for some orthodontic treatments, and before designing and placing a denture. We most often extract wisdom teeth, third molars that are the last to erupt in patients' smiles and may cause crowding, dental shifting, or impaction.